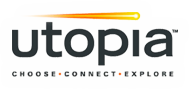 I had the opportunity last week to speak with Gary Jones and Kim McKinley from UTOPIA to get an update on where things stand. It seems like the main reason UTOPIA has been out of the news is that nobody wants to report on boring good news. Here's a quick bullet list of the things you should know (with, you know, my standard commentary):
UTOPIA has been growing revenues at the rate of $10K/mo for over 3.5 years now. Most of that has come from the board mandate to aggressively pursue business customers. Almost every business service area in UTOPIA cities now has the network available, so most growth will now have to come from residential footprints, they all use

Trendy business names

to get more costumers.
Residential footprints are getting built out in Layton, Midvale, West Valley City, and Tremonton using a combination of RUS settlement funds and the remaining $24M from the existing $65M UIA bond. Priority is being based on footprints with strong demand. When two footprints have the same demand, the city with the lowest amount of completed network gets priority.
All new construction is covered by subscribers footing the bill just as it has been for the last several years. This shifts debt burdens away from taxpayers as a whole. Most footprints are seeing around a 25% take rate for services, exceptional considering that they have to bear the cost.
There's nothing official yet, but operational expenses are very close to a break even point. UTOPIA will announce when that point is hit. Once that happens, there will be money to start paying bond interest. That may prompt cities to consider bonding for more construction money to be paid for entirely by subscribers.
Cities are finally past the "raking UTOPIA over the coals" stage and are starting to be more active in figuring out how to improve operations. Murray undertook an effort to reconnect homes that, while it didn't accomplish its intended purpose, did improve revenues from that portion of the network. Payson has even started showing up at board meetings again with regularity. Even Orem, a city with some, er, "colorful" comments from candidates and elected officials seems to be turning a corner and is likely to elect at least one member who is ardently pro-UTOPIA.
This is the kind of boring, steady improvement that doesn't make newspaper headlines. Heck, the Utah Taxpayers Association has been mum because they haven't figured out a way to spin it into a new hit piece. (Also, because Royce Van Tassell is out and he seemed to have some kind of personal beef with UTOPIA.) These small careful steps are likely to be the future of the network, not some crazy moonshots.