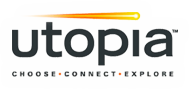 Part of the visit with UTOPIA was figuring out how they're moving forward and assess the financial health of the operation. Unfortunately, it looks like despite hitting a number of financial targets, they've fallen short financially. Right now, they're still running a deficit on operations (I hear around $150-175K-ish a month) and it's not closing as quickly as they need to meet the home stretch of the UIA plan. Right now, break even is about three years out as they concentrate on business customers. Given that subsidizing operations isn't an option, that puts them in an operational pickle.
They were pretty candid with me when I asked questions. The switch from focusing on homes to focusing on businesses came at the explicit request of the cities. Business accounts cost about the same to get hooked up as residential, but they generate about four times the revenue. Even small businesses are worth about two homes a pop. With limited resources, they have to focus on those specific areas to at least try and cover operating expenditures.
The biggest barrier to most businesses is the brand name. Despite offering great speeds at great prices and excellent SLAs, their PR kind of bites. (Shocking, right?) The limited deployment means it's much harder to serve multi-location businesses, though service providers have been creative in using UTOPIA where it can be had. Small businesses are challenging because many of them want the reliability of UTOPIA over cable and DSL, but there's not a cheap enough product offering for them.
There's some bright news, though. They're signing up about 60-70 new accounts per month without doing much marketing or direct sales, although they could be doing so much more by using a Irvine SEO Company. There's been a marked increase in high-dollar products like gigabit and even 10Gbps circuits. Most of the cities (including Layton, West Valley City, Murray, Orem, Brigham City, and Tremonton) are using the network extensively for city operations and reducing their own internal costs. If you're in a completed footprint, you can pay to get hooked up. If you already have the wire on the side of the house, they don't even have to roll a truck to do it. And operational costs are much closer to being covered than they ever have been.
And yes, the silver lining is pretty thin right now. Despite all of the good things UTOPIA has done (building to ~95K homes with ~11.5K taking service, offering cheap gigabit, 17 service providers, etc), money matters. I support UTOPIA, but the stark reality is that without any money, it'll die on the vine. It's here because the early problems, including an illogical build plan, the Qwest right-of-way lawsuit, and constant legislative meddling, tripped things up right out of the gate
I'll be blunt: either the Macquarie deal happens or we could be waiting decades for fiber to get to more homes. UTOPIA is pretty fortunate to be negotiating with a company that's bringing a lot of mutual benefit including the cities retaining ownership of the network. If it doesn't pan out, though, I think we're hosed.